Canada's Wild West 2019
Date: Feb 9, 2019
Venue: Strathcona Community Center
Address: 401 Festival Ln, Sherwood Park, AB T8A 5T8
To Register: WCA site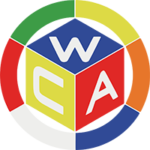 (Registration opens Saturday, January 12, 2019, 10:00 AM MST.)
There is a competitor limit of 200 competitors.
The base registration fee for this competition is $20 (Canadian Dollar).
On the spot registrations will be accepted with a base registration fee of $25 (Canadian Dollar).
If you register online, you may pay in advance online, or at the registration desk the morning of the competition.
Spectators can attend for free.
New Competitors
Check out this video to prepare yourself for the first official competition.
Events






3x3x3
2x2x2
4x4x4
5x5x5
3x3x3 One-Handed
Square-1
Schedule
Note that the schedule and cut-offs are tentative, and are subject to change once we have a better estimate of the turnout.
Please note: WCA site will have the most up-to-date schedule.